→ Deutsche Version dieses Artikels
Martyn Joseph with his 4 string tenor-guitar
Bruce Springsteen, John Mayer, Bruce Cockburn and Dave Matthews – Martyn Joseph is often compared to these musicians. But actually the singer/songwriter from Wales has his own style. Everyone, who was a guest on Saturday, 23.02.2019 in the Martin Luther Church in Witten/Germany, could convince himself of this.
The guitar, a stomp box and his voice – these are Martyn Joseph's instruments. He played one song with the harmonica and one on the piano, but on four, six or twelve strings, he proved that he is a true master of guitar playing.
Martyn Joseph played almost exclusively acoustic guitars. In addition to the twelve-string he also had one with only four strings, not a bass, but a tenor guitar (tenor guitars were particularly popular in the United States in the 1920s and got many violin and banjo players to switch to the modern guitar). But with the help of his many effect units he conjured up fascinating sounds, as you would expect more of electric guitars.
The artist visited Witten as part of his Germany concert tour, where he presented his new album "Here Come the Young". It's already his twenty-third studio album. His first one dates back to the year 1983.
All of his songs have a serious background. They are shaped by the deep desire for humanity and justice. "If I entertained you well this evening," he said at the end of the concert, "then that was not my intention, it was more of a collateral damage." Martyn Joseph wants to sharpen his audience's view of our world. Several times he emphasized how beautiful our lives can be, but at the same time he also pointed out the tragedies of this world. So his songs were political, melancholic, in love, angry and full of calls to make this world better. According to this it's worth to say that he and his wife, as founder, manage the Let Yourself Trust. This non-profit organization has been supporting social projects around the world for many years. At his concerts and through many other channels, the artist collects money to distribute to many small projects, where dedicated workers help other people. One example is the "Mobile School", which is already providing education to street children in 25 countries with the simplest means.
I enjoyed the concert a lot (just collateral damage). I was often immersed in Martyn Joseph's sound collages, his long instrumental pieces or his wonderfully British accent during his announcements. And last but not least I got to know two very nice people: besides the artist himself also his tour guide and technician Mark Dyde, a very funny and friendly man, who obviously made an effort to speak German ;-)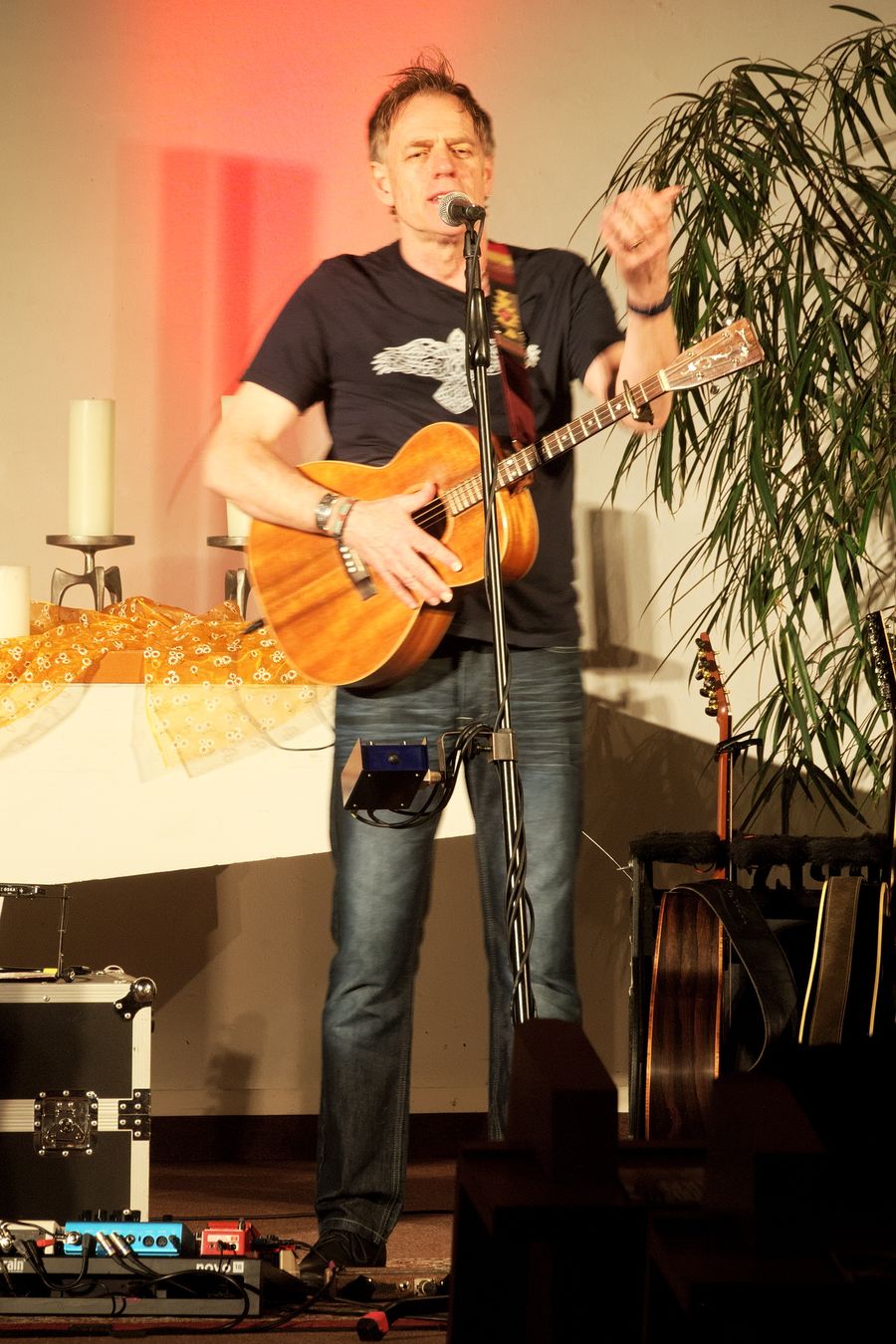 Here a video of this evening:
Martyn Joseph – "On My Way"
Schade, noch keine Kommentare.
Schreibe hier den ersten Kommentar: